Often, we are in the midst of global good without even knowing it. Many of the most charitable things that are done, are often done in silence, sent in secret, and donated by anonymous sources. Here less than an hour train ride from Beijing, in the coastal city of Tianjin, the Swedish company Stena RoRo has completed its first of a kind build for the charity known as Mercy Ships, completing "the world's largest civilian hospital ship."
This accomplishment took over 7 years to build, thousands of hands to assemble, and contributions from people from all over the world. Dubbed the "Global Mercy," this ship is not just a means of marine transport, but a lifesaving vessel that can traverse the globe; saving lives, training local medical staff, and helping others in need.
In a recent press release, the details of the successful sea test were announced, stating "Sea trial completed for hospital ship Global Mercy." For those who don't know the details of what a sea trial is, (I know I didn't!), it means that: "the ship's systems and functions – such as engine performance and fuel consumption, navigation and radio equipment, maneuverability and safety systems – are tested for several days at sea."
Or, as Per Westling, CEO of Stena RoRo puts it,  "The purpose of a sea trial is to ensure that the ship's systems are working properly during operation and that the requirements of the specifications and applicable standards are met."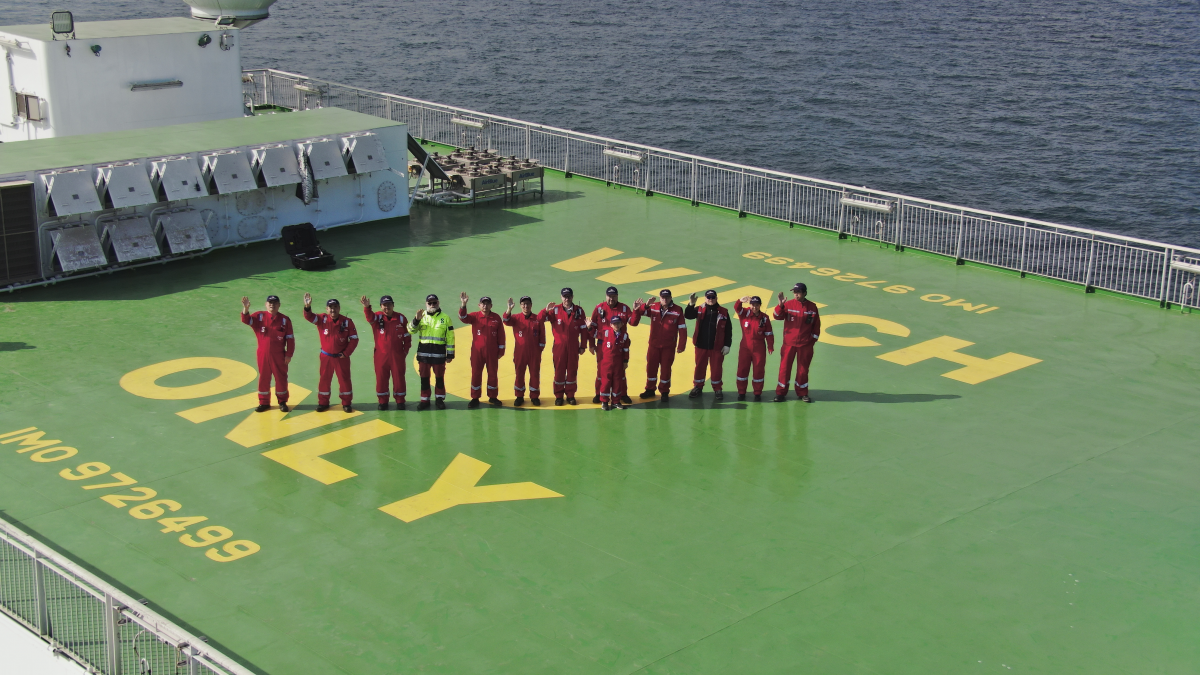 Now that this sea trial has been successfully finished, this life-saving ship will soon set sail from the Xingang shipyard in northern China. First, the ship will sail to Antwerp in Belgium and add some finishing touches and additional medical equipment to the vessel, before it makes its journey to West Africa on its first lifesaving mission. The first docking location will be in Dakar, Senegal, but before heading there, it will first sail to the Netherlands where celebrations will take place for this momentous conclusion to a worldwide one-of-a-kind build.
But it won't just be all about festivities, the 2-week dock in Rotterdam is also being held to thank sponsors and contributors, as well as to recruit additional potential volunteers. The organization says that the first mission is set for 2022, and the company is projecting, "more than six hundred volunteers aboard from all over the world and from a variety of professional categories, who will make it all possible through their contributions of skills and time."
This ship is an inspiring sight and massive in size. As the Swedish Project Manager, Rikard Olsson confidently shared, "This ship is built to last."
The medical staff and people on board are all Mercy Ship volunteers and will donate weeks, months, and even years to working and helping others on the ship. Founder, Don Stephens, his wife, and 4 children have lived onboard another Mercy Ship for over 10 years. Though the ship is not a luxury cruise ship and wasn't designed to be, it aims to be comfortable and homelike for those who reside on its decks, with plenty of furnishings and other accommodations added with the comfort of the volunteers and patients in mind.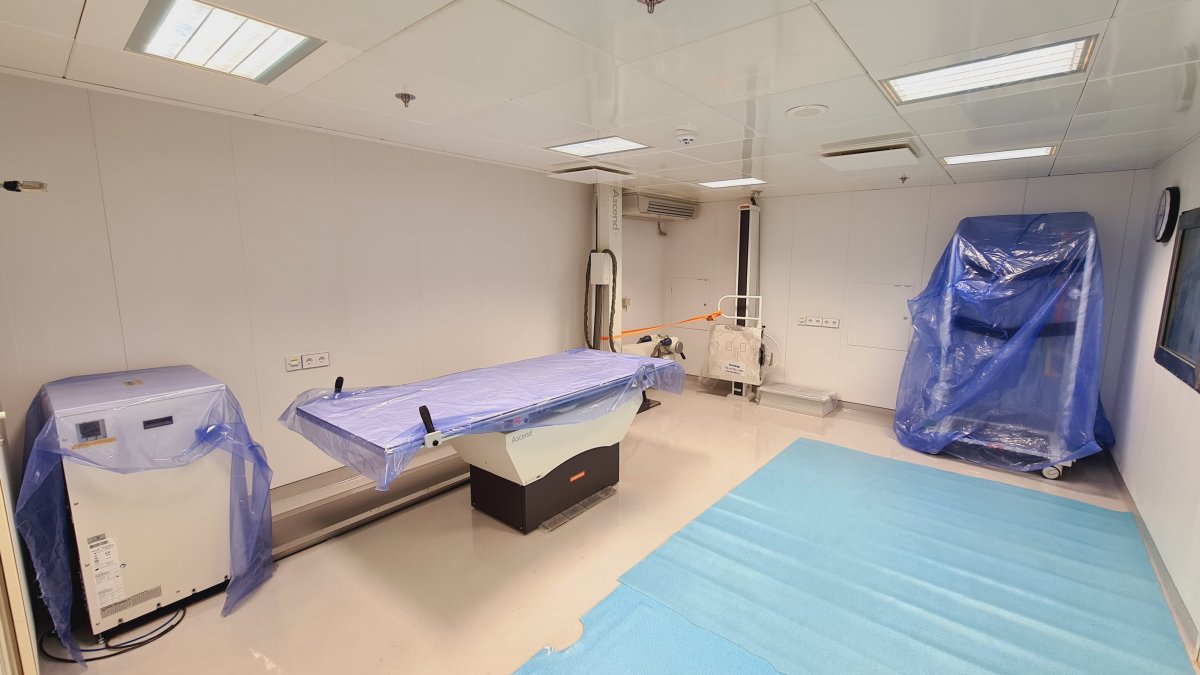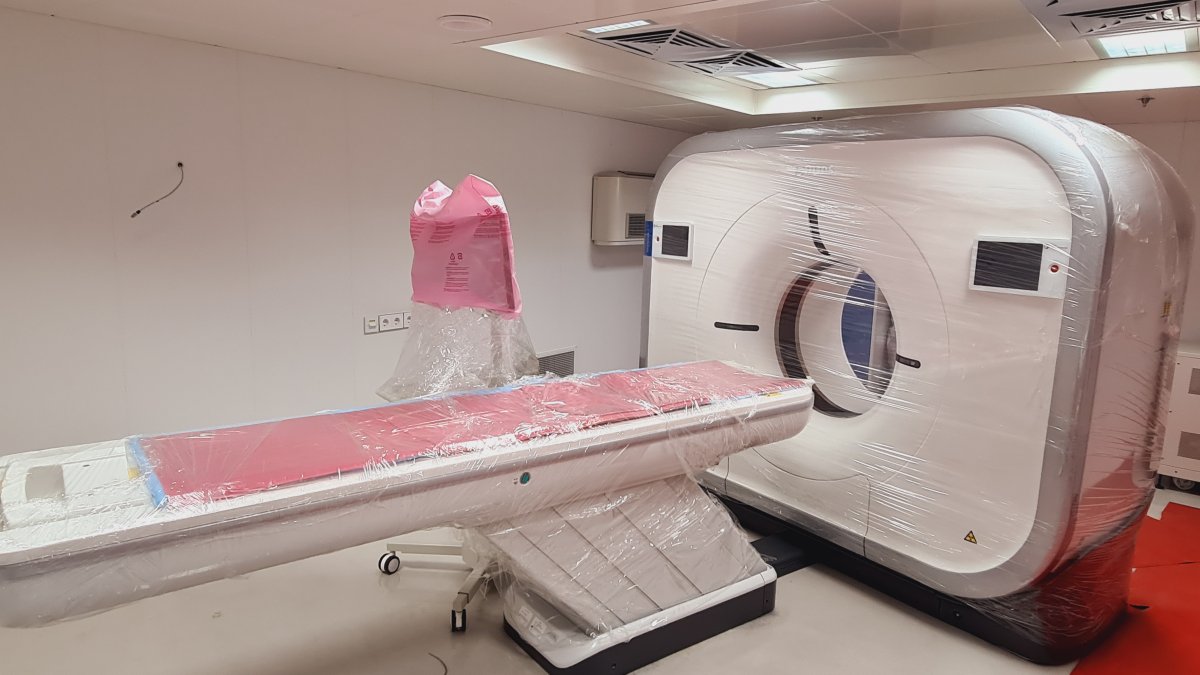 I had the pleasure of visiting this 12-story vessel and seeing everything floor-by-floor, and there were surprises around every corner. Olsson, who has watched over the ship's construction for the past 8 years while living in Tianjin with his wife and three kids, gave us a tour of the infrastructure, medical equipment, and rooms, as well as a few extras, have been added to this mobile city on the sea, including a 682-seat auditorium, a school, a gymnasium, a pool, a café, a shop, and a library when the ship is docked. 
When you walk through the different areas, you are able to see the people and companies who have contributed to the ship as sponsors, and plaques hang in different areas all over the ship to recognize their donations. There is still space for you should you ever choose to set sail with the ship as a volunteer, or donate as a sponsor and let your name plaque sail along with the ship, commemorating your commitment to saving lives around the world.
Mercy Ships is a miracle for many people and this new ship and will provide free medical care to the world's most vulnerable. When I asked some of the people involved in the ship's creation and completion about their feelings about being a part of this project, their answers were sincere, emotional, and honest.
Project coordinator, Joy Zheng who is a local, told me, "I am so proud to be working with such a knowledgeable team. They are all so professionally focused on delivering the highest quality build. I have been working with them for almost 3 years, so now I feel happy and sad at the same time." Zheng added that, while she'd delighted to see the ship finally set sail on its mission, there's a bitterness in departing with a team with whom she's grown so close.
Machinery project engineer, Robert Malm, says, "I'm feeling some relief to finally be finished, happiness to have conquered the challenges and obstacles, and to know we have done everything the best way possible. For me, the best part of this experience in Tianjin was trying a new position, and also to stay such a long time in a foreign country."
Rikard's Wife, Yini Olsson, a Shanghai native, shares, "Now that the ship is complete, I have many feelings. I am so excited and satisfied about this beautiful ship, and to watch it sail off to help more people in need, the volunteers on board the ship are going to have a much better living/working condition. But in addition, I am a bit sad to say goodbye to many colleagues and friends." 
This project took hundreds of sponsors to make happen, thousands of hands to build, and will surely touch the lives of millions around the world. Bon Voyage Global Mercy, and godspeed.